CAREER INFORMATION
Full-time Police Officer
Application Process for Police Officer is Closed
---
UPDATED: April 30, 2013

Location:  Wall Township Intermediate School, 2801 Allaire Rd.,  Wall Township, NJ 07719.  Park in the West Parking Lot (main parking lot).
The first letter of your last name will indicate which time you should arrive at the Wall Township Intermediate School for the Physical Fitness Test.
Last Name               Arrival Time
A – G:                          09:00 am
H – O:                         11:00 am
P – Z:                          1:00 pm
---
The Wall Township Police Department is currently testing for the position of Police Officer.
If you filed an application or resume with us previously, you must resubmit the paperwork according to the following procedure.
Items needed for Registration
Completed 1 page pre-employment application
Completed waiver form
$50 money order payable to the Wall Township Police Department
Medical Doctor's note within the last six (6) months stating "capable of vigorous physical activity"
These items must be submitted together. The application, waiver, money order, and doctor's note must be delivered in person at the Records Bureau in the Wall Township Police Department, 2700 Allaire Rd, Wall, NJ, 07719.  After business hours and weekends, the documents will be accepted at our Communications Center in the Police Department.  DO NOT SUBMIT ANY OTHER DOCUMENTS OTHER THAN WHAT IS REQUESTED AT THIS TIME.   We will begin accepting applications at 08:00 am on Tuesday, April 2, 2013.  Application deadline is at 4:00 pm on Thursday, April 25, 2013.  You will be given a study guide for the written examination when you turn in your application.
If you do not complete the above paperwork correctly, including the picture, and submit it along with the doctor's note and payment by the deadline, you will not be permitted to participate in the selection process.
The first phase of testing will be a written examination. It will be given at 6:00 pm on Thursday, May 2, 2013 at Wall High School, located on the corner of 18th Avenue and New Bedford Road.
The physical fitness test will be on Saturday, May 4, 2013.  Please keep this date available on your schedule.  There is no rain date or makeup date. The test will be given rain or shine. You MUST bring a photo ID and appropriate exercise attire.  More information to follow regarding time and location.
Physical fitness testing events and standards are as follows:
Maximum push ups in two minutes
Maximum sit ups in two minutes
1.5 mile run
The 50 foot dummy drag is a PASS/FAIL event. The applicant must drag the 170 lb rescue dummy fifty feet in thirty seconds or less.
Candidates should prepare themselves for rigorous physical activities. Testing will include strength and endurance, cardio/respiratory endurance, agility and flexibility evaluation. Candidates will report with appropriate clothing, including sweat cloths and sneakers.  Water is also recommended.
The physical fitness testing will be conducted in an atmosphere of strict control and discipline. Applicants will be required to follow all directions without exception.
Following the successful completion of the written examination and physical examination, a percentage of the candidates will be assigned for brief agency background investigations and invited to participate in the panel interview phase.
Eligibility Criteria for Wall Township Police Officer Position:
Must be 18 – 34 years of age;
Possess a valid driver license;
Possess a high school diploma or equivalent;
Be a United States citizen.
Must have completed a minimum of sixty credit hours of study at an accredited college or university. An Associate's Degree is also acceptable.
OR

Must have completed two or more years of active duty in any branch of the Armed Forces of the United States. Two or more years of Reserve or National Guard time does not meet this requirement unless the applicant was on active duty for at least twenty four months.
OR

Hold a valid certification from the NJ Police Training Commission as a Class A Police Officer.
Pay particular attention to the following excerpt from the Personnel Appearance SOP as it could disqualify you from the selection process:
Tattoos or similar markings on the face, head, scalp, neck and hands are forbidden.  Tattoos or similar markings on exposed arms and exposed legs while in any approved police uniform(s) or non-uniform dress attire are forbidden.  See below diagram for examples of the exposed areas (non-shaded).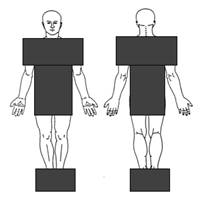 If an applicant has an arm tattoo that is on the bicep, they should submit a photo to see if it is below regulation area. No forearm tattoos will be considered. Photos may be submitted via email to this email address gcarpino@wallpolice.org. Applicants with tattoos that may be below regulation area on the bicep will be contacted once your eligibility is determined.
For leg tattoos only, applicants must report any current leg tattoos and not get any additional leg tattoos or modify/add to any existing leg tattoos while in the application process or after hiring. If hired, the applicant would be required to cover leg tattoos if assigned to bike patrol or other assignment that requires wearing shorts. Applicants must submit a photo of their current leg tattoo with their application package.
---
Our website will post information regarding the testing process.  Please monitor our website frequently during this process.  Please do not call police headquarters with questions regarding candidate testing.
Fill out a Pre-Employment Application and Waiver Form  (Requires Adobe PDF Reader)
---
An Equal Opportunity Employer