9-11 Fundraiser Is A Success
On Thursday, February 8, 2018 Mike Fidanza, president of 9-11 Sports Incorporated, gave the Wall PBA 234 Civic Association a check in the amount of $6,000 for winning the "Fallen Hero's" Flag Football tournament on January 21, 2018 at the Met Life Stadium in East Rutherford, N.J.  The money raised from the tournament will go to the victims and their families of 9/11.  Wall Township Police Officers volunteered their time to participate is this fundraising event to honor the fallen victims of 9/11 from Wall Township: James J. McAlary, John E. Connolly, Robert W. O'Shea, Christopher Lunder and Alfonse J. Niedermeyer.  The Wall Township fallen victims are also honored on the 9/11 commemorative plaque located in the front lobby of the Wall Township Police Department.  Below the plaque is a piece of steel recovered from the rubble of the World Trade Center.  Both can be seen in the center of the below picture.
Pictured below from left to right:  Patrolman Kevin Orender, Patrolman Ty Hughes, Patrolman Fred Sprengel, Detective Mike Steitz, Mike Fidanza President of 9-11 Sports Inc., Chief Ken Brown and Captain Greg Carpino.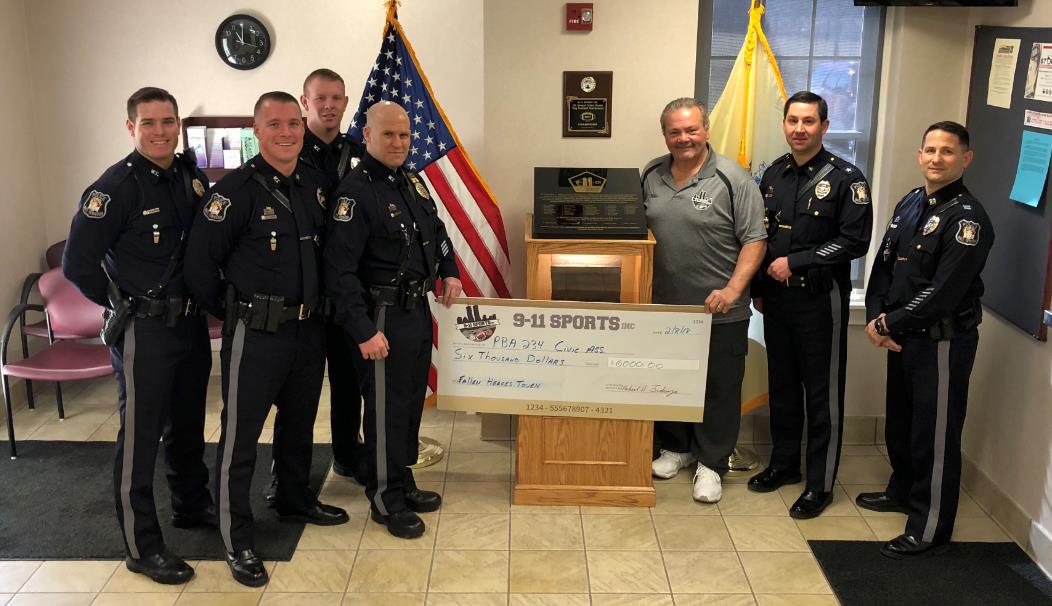 For any additional information please contact the Wall Police Public Information Officer:
Captain Greg Carpino #130
(732) 449-4500 ext. 1130