The Wall Police is asking for the public's help locating a subject identified as Martin Luis (36yoa) LKA- 6th Ave, Neptune Township. NJ. The suspect is described as Hispanic male, approx 5'5", brown eyes and black short hair. It is believed the suspect has fled the area. This was NOT a random crime.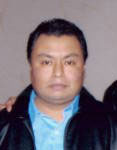 Following an investigation by township detectives into allegations of sexual assault upon a female juvenile… an arrest warrant was issued on February 1st, 2013 for the suspect charging him with 1ct- Aggravated Sexual Assault (2nd degree) and 1ct- Endangering the Welfare of a child ( 2nd degree). Bail to be set upon arrest.
Any information about the suspect or his whereabouts would aid the investigation. Detective Michael Steitz conducted the investigation.
Contact the Wall Police @ 732-449-4500, Detectives @ 732-449-4800 or the Wall Police Tips line @ 732-280-4288. All calls can remain confidential.