Update: 2nd Arrest made in Purse Theft Investigation
On February 20, 2013, the Wall Police report that the 2nd suspect identified during the purse theft investigation has been located and arrested through an anonymous call to police regarding his whereabouts.
On this date at approx. 2pm, Det M. Steitz located the suspect Joseph Frystock at a local medical center where he had been admitted. The defendant was arrested and served criminal complaints and released R-O-R on $15,000.00 bail pending his initial court appearance.
---
Update: Purse Snatching Arrest / 1 Still Wanted: Friday, February 15, 2013
Following an investigation into the theft of a pocketbook while the victim was loading groceries into her vehicle at the Shop Rite Supermarket, located on Rt 34 & Lakewood  Roads, the following suspect was arrested on Friday, February 15th by Wall Detectives.
The suspect was identified with assistance from the Ocean Township Police, after an officer on routine patrol observed a vehicle matching the description of the suspect's vehicle parked at the Chalet Motel., Hwy 35, Ocean Township, during the early morning hours of Friday, February 15th. The suspect was located residing in a room and taken into custody.
The suspect identified as Matthew D. Frystock ( 26yoa) LKA Drum Point Road, Brick, was transported back to Wall PD and charged with 1ct- Theft (3rd Degree) and 1ct- Conspiracy to Commit Theft ( 3rd degree). Bail was set at 15,000.00 with no 10%, no R-O-R by JMC. Defino, Wall Township Court.
Additional criminal charges are forthcoming by the Toms River Police Department, who assisted during Frystocks interview, linking him to a pocketbook theft in their jurisdiction on February 12th.
A rental vehicle- 2012 Chevy Impala bearing Tennessee registration utilized by defendants Frystock was impounded from the motel…pending further investigation.
During the course of the investigation with defendant Frystock… it was determined that the second suspect involved with the Theft investigation was identified as his father Joseph Raymond Frystock (56yoa) LKA Drum Point Road, Brick, NJ. His whereabouts are unknown at this time.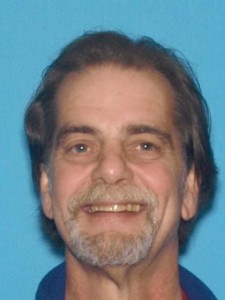 Arrest warrants were issued for Joseph R. Frystock charging him with 1ct- Theft (3rd degree) and 1ct- Conspiracy to Commit Theft ( 3rd degree). He was entered as a NJ Wanted Person with bail to be set upon arrest.
No photo will be released of defendant Matthew Frystock since he has been identified and criminally charged. The case is being investigated by Wall Detective Mike Steitz and Toms River Detective Bajada.
Issued- Lt. W. Pomphrey102
---
On Wednesday, February 13, 2013 at 10:47AM, Wall Township Police responded to the Shop Rite Supermarket on Route 34/Lakewood Road to investigate a purse snatching incident that occurred in the store's parking lot.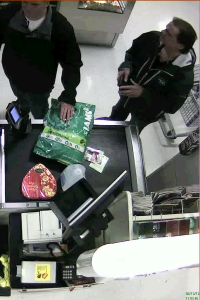 A Point Pleasant woman was in the process of loading groceries into her car when an unknown male passenger in a small silver vehicle exited the car he was traveling in and removed the purse from the victim's rear tailgate before fleeing the area. The suspect vehicle exited the parking lot and was observed traveling east on Lakewood Road.  It was later discovered that the victim's credit cards were used at two separate locations on Route 66 in Neptune Township. Police obtained surveillance video as well as photos of the accused.
Police are looking for a small silver vehicle with out of state license plates that was occupied by two white males in their mid to late 30's. Police are asking the public for its help in identifying these individuals. Police are asking that anyone with information regarding this incident to please call the department's main number at #732-449-4500.