Press Release
Chief Robert L. Brice reports the following occurrences:
Wall Township – Jane Andre Cotta was 19 years old and pregnant when her younger brother and one of his friends saw her inside a barn tack house on her family's property in the Allenwood section of Wall.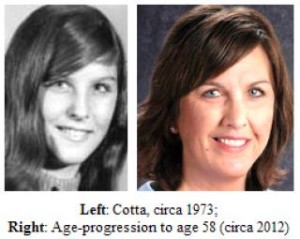 That moment in 1973 was the last time anyone in her family saw the avid equestrian and oldest of eight children.
Once again, police are asking for the public's help in solving the nearly 41-year old missing person mystery. The investigation conducted by local, county, state and federal law enforcement as well as private investigators included roughly 260 interviews in five states. Now, Wall Township PBA Local #234 and Crime Stoppers are offering a reward totaling up to $10,000 for positive information leading to the recovery of missing person Jan Andre Cotta, her remains or the arrest of the person responsible for her disappearance.
 Cotta and her family had lived in Spring Lake Heights before they moved to Wall, where Cotta began participating in the 4-H Club. In 1971, she was elected vice president of the Jumping Brook Riders 4-H Club.
 Horses were her passion. She rode for pleasure, was involved in competitions, and went to training facilities. She attended the Morven Park International Equestrian Institute in Leesburg, Virginia, and the Princeton Riding Academy. She provided riding lessons at her family's property on Ridgewood Road.
 Cotta was last seen by her brother, Brian Cotta, and his friend between 11:30 p.m. and midnight on June 26, 1973.
 The next day, Dorothy Cotta reported her daughter missing. An investigation into the disappearance was opened, and there was a follow-up by police in the 1980s, 1990s, and 2000s.
 Since 2004, several members of the Wall Township Police Department have assisted with the investigation. In addition, the Monmouth County Prosecutor's Office, New Jersey State Police, U.S. Secret Service, Federal Bureau of Investigation and the National Center for Missing and Exploited Children assisted.
 Between the years 2004 – 2006, investigators conducted about 250 interviews in New Jersey, Pennsylvania, New York, Ohio and Florida. However, investigators are determined to identify anyone else who may have knowledge about Cotta during the time of her disappearance. In addition, investigators are still trying to identify a subject by the name of Eric Shore (proper spelling unknown). Shore was reported to be approximately 40 years old at the time of her disappearance and from Staten Island or Long Island. It was also reported that his girlfriend at the time was employed as a hairdresser in Deal, New Jersey.
 The latest investigation incorporated advanced technology, including computer searches, age progression and a DNA comparison of Cotta's genetic makeup to those of unidentified remains. That search was done using CODIS, the Combined DNA Index System, and a nationwide law enforcement database.
 At the time of her disappearance, Cotta was about 5 feet 4 inches tall, weighed about 118 pounds, and had brown hair, blue eyes and a mole near the left side of her mouth. She was last seen wearing blue Land Lubbers jeans, a white shirt with a blue design on it and brown loafers. She was carrying a round tweed purse.
 Citizens with information about this investigation may contact Monmouth County Crime Stoppers confidential telephone tip-line by calling 1-800-671-4400; text "MONMOUTH" plus their tip to 274637; or, email a tip via the website at www.monmouthcountycrimestoppers.com.
Prepared by: Detective Sergeant Joseph Wilbert
Release Date: Sunday, June 22, 2014