During the course of the south end Burglary investigations… the following suspect was arrested and criminally charged for his involvement in a forced entry burglary on Birch Place, which occurred on August 10th between 10:30am- 3:10pm. During the course of this burglary, it is believed that the suspects fled the residence upon the arrival of the homeowner. No proceeds were stolen.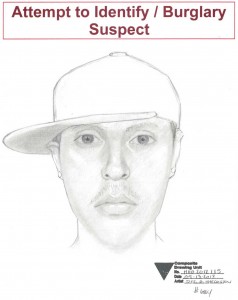 The suspect identified as ROBERT  V. KUHN (22yoa) of Jackson, NJ was arrested and served his criminal complaints while presently incarcerated at the Ocean County Jail. Bail was set at $10,000.00 with no 10% option.  The suspect was charged with 1ct- Burglary. A second suspect has still not been identified and is wanted in regards to this investigation. A suspect sketch was completed by the NJSP. Composite Unit
The unidentified suspect is described as-   Hispanic male, in his late teens or early twenty's, approx. 5'8-5'10 with slender build, dark short hair and flat face. He was wearing a baseball cap and had small diamond stud earrings in both ears.
The Wall Police encourage residents to report all suspicious activity when it is observed to 732-449-4500.
No photo will be released of Defendant Kuhn since he has been identified, arrested and criminally charged.
The arrest and investigation is being conducted by Det. Rick Pasqualini.